Who?: Kansas State @ #11 Texas
When?: January 31, 2009 | 3:01 PM CST
Where?: Austin, TX | Erwin Center (16,755)
Media: Big 12 Network/ESPN Full Court/ESPN360.com | KMAN 1350
This week, Kansas State travels to Austin, TX to take on our rivals, the Texas Longhorns.
That's right; it's a rivalry. In the past three years, Kansas State has beaten Texas twice in football, and once in basketball (@ Texas in 2007). More clever fans that I have dubbed said rivalry the "Chisholm Trail Rivalry", which I think is genius. In fact, they even made a poster for it: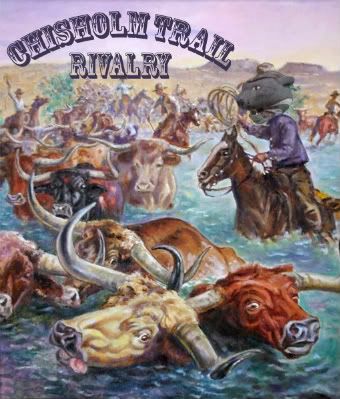 Everyone, if you're not busy at 3 PM, why don't you stop on by and join us for a discussion? It'll be fun and stuff.